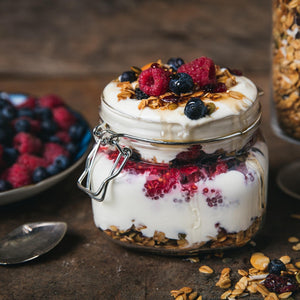 Granola and dried fruits are extremely healthy food choices, and make great snacks and additions to meals, for all ages. With children loving both granola and dried fruit snacks in their lunch boxes, and health-conscious adults regularly using these products as part of their breakfast bowl routines, Robinvale Estates granola and dried fruit range is bound to have something to please everyone. 


Robinvale is pleased to stock the handmade Liv & Luv Granoata and Little Gemz ranges of products, which include a variety of scrumptious flavour combinations such as sun muscat and chia seed, cranberry, and almond, as well as low sugar, high protein, and paleo varieties. The Little Gemz dried fruit range is also proudly 100% Australian grown and dried, with the products grown locally in Robinvale in the Gallance Family Vineyard. 


Our ever-popular dried fruit and granola products also make amazing gifts for family and friends and are the perfect addition to gift hampers and gift baskets, providing your loved one with a unique and flavoursome gift that is sure to be well received. They are also fabulous on grazing platters, with their bright colours and flavoursome tastes, whether you are catering for a crowd of 500 or a small intimate gathering, our range is sure to please. 


The full range of granola and dried fruit products stocked by Robinvale Estate is available below. 
Frequently Asked Questions