Our Olive Oil Gift Hampers Australia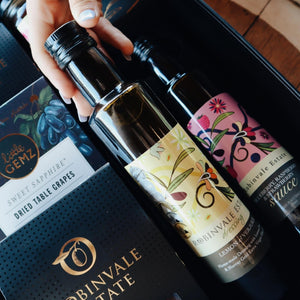 We understand that sometimes just one item isn't enough — that's why we've prepared our range of Gourmet Gift Boxes and Hampers. We also know that for some people, the best gift is food. Our pre-made Gourmet Gift Boxes and Hampers are the perfect gift for those who love to spend time in the kitchen or who can never get enough of flavour!


Robinvale Estate's Gourmet Gift Box Hampers are made with all of our favourite Robinvale Estate products including our Murray Gold Extra Virgin Olive Oil and our extensive range of salad dressings. Each gourmet food hamper comes with a different selection of products, so that you can make a personalised decision based on what you or the recipient like.


Our Gourmet Gift Box Hampers come beautifully presented, ready to be gifted to that special someone. Whether it's big or small, you can leave the pretty packaging and wrapping up to us. All you have to do is have it delivered directly to the recipient or in advance to take yourself as a beautifully packaged gift.


Browse our range of Gourmet Gift Box Hampers or contact us if there is something special you would like to create for your next gift.
Frequently Asked Questions