The Best Extra Virgin Olive Oil Australia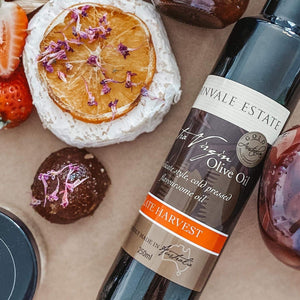 Robinvale Estate is proud to present its very own top shelf extra virgin olive oil. Made right here on our olive farms, our Murray Gold & Late Harvest Extra Virgin Olive Oils truly comes from our farm to your table. We have been growing olives here at our estate since 1946, and have been creating some of Australia's finest olive oil ever since.


As well as being grown here, our olives are also processed right here on our farm. All of our extra virgin olive oil is cold pressed right here at Robinvale Estate, producing a fruity, robust, and well-balanced flavour.


At Robinvale Estate, growing standards are extremely important to us. We grow a premium product free from contaminants and toxins, and our cold-press method prevents the loss of any flavour or nutrition from the oil. The olive oil is captured in all of its natural beauty, making it the perfect earthy flavour for a range of different dishes.


For customers that value local, fresh produce, Robinvale Estate's extra virgin olive oils are the perfect product for the pantry. Shop our farm fresh extra virgin olive oils below, or check out our Gift Box Hamper Collection for food hampers containing our olive oils.
---
You're viewing 1-2 of 2 products
Frequently Asked Questions