Caramelised Balsamic Vinegar & Caramelised Balsamic Dressing
Any 2 for $35 or 3 for $50
(discount applied at checkout)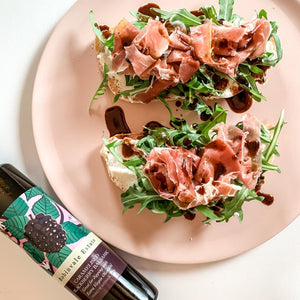 Balsamic vinegar is a staple in virtually every Mediterranean home, and Robinvale Estate brings a modern twist to an old favourite. All of our proprietary flavour combinations complement each other, and a range of dishes.


As creative food innovators, we wanted to take an old classic and give it a modern flavour. That's why our caramelised balsamics aren't just caramelised - they also include blueberries, figs, tomatoes, and onions. Each variety is made with its own proprietary recipe, depending on the fruits or vegetables used.


Caramelised Balsamics are made by cooking down the balsamic vinegar for a long time. This reduces down the liquid component, thickening the balsamic and drawing out the sugars. The result is a thick liquid that is both sweet and tart, and carries the flavours of the fruit that it was cooked down with.


Food connoisseurs and home chefs can both enjoy our Caramelised Balsamics. They are delicious splashed on salad, over roasted or fried vegetables, or mixed with
olive oil
for a twist on the traditional Italian appetiser.
All Robinvale Estate products are made with the freshest, local ingredients, and our Caramelised Balsamics are no different. We source the best fresh produce from the many food growers around Robinvale to use in our Caramelised Balsamics Collection, bringing you the freshest flavours right to your kitchen.


Explore our range of Caramelised Balsamics and other products like agrumato oil & olive oil body product at Robinvale Estate.
Frequently Asked Questions