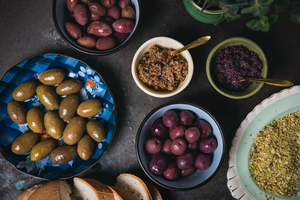 Our process; our guarantee
Originally, as Ralph and Glenda started the Robinvale Estate farm, our olives were hand planted and hand picked. However, as the farm has continued to expand, we have begun to adopt mechanical harvesting methods. Our harvest begins in early April and can last a few months. It is the variation in harvest times that allows us to produce the variety of green and black olives that you see available in our store, as well as the Murray Gold Extra Virgin Olive Oil and our Late Harvest Extra Virgin Olive Oil.
We ensure that the olives are processed within 12 hours of harvest. This ensures that the olive oil is collected from the freshest olives while they are still rich in flavour, aroma, and while their oils are fresh. Once the oil has been cold pressed, it is stored in large vats. The extra virgin olive oil then sits for roughly 4-8 weeks. This is done to allow any sediment to settle, the oil is then filtered removing any remaining olive pulp that may deteriorate the oil quality over time resulting in the finest oil to be used.
From here, our oils are used to create our Robinvale Estate products. To qualify for Australia's "Extra Virgin" title and label, our oils are analysed for free fatty acids (quality and cleanliness), polyphenol content (antioxidants and shelf life), peroxide (freshness), and UV absorption (whether the oil has been refined or overheated). The final test is organoleptic, which means it has to be tasted and smelled for any defects. Only once our oil has passed all of this vigorous testing does it receive the label "Extra Virgin Olive Oil".