Buy the Best Dukkah in Australia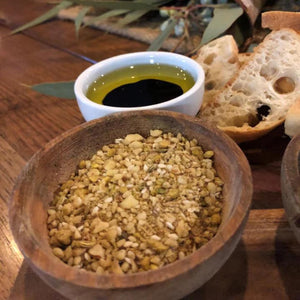 Inspired by freshness and local produce, our Dukkah Collection includes a range of different food products that can be used as condiments or spices. "Dukkah" itself is an Egyptian word, and means "mixed spices and nuts". Traditional recipes include cumin and sesame seeds, but we've put our own Robinvale twist on our Dukkah recipe.


Traditionally, Dukkah was used as a dip. Mixed with olive oil , Dukkah makes a spicy, nutty, earthy dip for dipping bread sticks or a piece of fresh sourdough. It can also be used as a way to spice dishes or to quickly add a splash of flavour to salads or pasta salads. 


All of the nuts and vegetables in our Dukkah collection are sourced from cultivators in the region. The Almonds and Pistachios used in our Dukkah collection are grown locally around Mildura and Robinvale, giving our Dukkah a fresh and local flavour.
Our Dukkah Collection is for the adventurous food spirit whose palate doesn't end at a balsamic salad dressing or olive oil. Adding herbs and spices is an exciting way to flavour food, and our curry Dukkah is a great way to add a touch of spice to your regular dipping board or pasta salad.


Browse our Dukkah Collection below for our range of delicious condiments to add to your next meal or serving platter.
Frequently Asked Questions