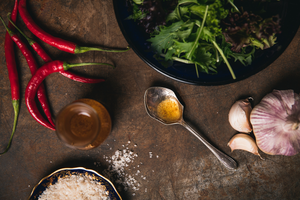 Our Promise
Our passion is cuisine, culture, and coming together.
At Robinvale Estate, growing olives and producing olive oil and salad dressings are just a means to continue feeding our passion for cuisine, culture, and bringing people together. More than we love olives, we love food and the magical way that fine foods bring people together. 
For as long as humans have lived, they have travelled in search of fine flavours, spices, herbs, and fruits. Food is central to the many cultures and civilizations that came before us, and it is still central to our modern cultures today. Until today, humans still travel the world in search of flavours, excitedly coming back to share those flavours and experiences with the people they love.
It is precisely this sentiment that fuels our creativity here at Robinvale Estate. It is our passion for food, culture, and cuisine that inspire us to continue producing the finest olives and the finest extra virgin olive oil. We take pride in knowing that these foods will bring families and friends together over the shared love of food and culture.
With every olive we grow, harvest, and press, our real mission is to bring the feeling of community and togetherness to every table. At Robinvale Estate, we believe life is about celebrating, and we think the best way to celebrate it is with fine food, a good wine, and amazing company. And that's why we're proud to be producers of fine food — because we know it always leads to the best connections, celebrations, and ultimately, the happiest life.