We're passionate about the recipes we make here at Robinvale Estate as well as the recipes you can make in your very own kitchen. Here, we share our favourite recipes, both those that are ours and those that we have discovered along the journey. We invite you to try these recipes and let us know what you think. And we'd love to hear from you if you have your own recipes to share with us!
Our love for cooking has certainly evolved over many years as olive growers and producers. From the early days where our founders spent many hours learning traditional recipes from earlier generations, to today where we have added some modern twists to traditional favourites. 
The team at Robinvale Estate are proud to share with you a range of recipes, so you too can experience our dressings, balsamics, agrumato olive oil, granoata, dukkah and olive products in a variety of dishes. 
We also love to hear what our customers are creating with our products, so if you would like to share your recipes please contact oil@robinvaleestate.com.au
New serving suggestions will be added regularly.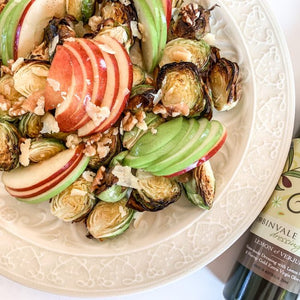 Brussel Sprouts, Apple & Walnut Salad
Ingredients & Method:
Brussel sprouts drizzled with Murray Gold EVOO & sprinkled with salt then Roast
Walnuts – chopped
Apple – Sliced Red & Green variety
Parmessan Cheese – crumbled
Drizzle with Lemon & Verjuice Dressing to finish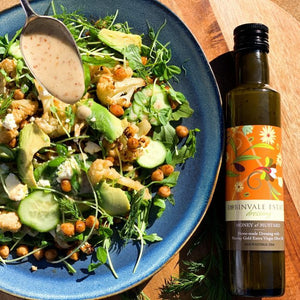 Chickpea & Cauliflower Salad
Ingredients & Method:
Chickpea spiced (drizzle with olive oil, toss in small amounts of cummin, papriki, garlic salt then roast)
Cauliflower (drizzle with garlic olive oil or murray Gold Blend EVOO, salt and roast in oven
Toss together rocket, sliced cucumber, chunks of avocado, feta & watercress
Drizzle with Honey & Mustard Dressing to finish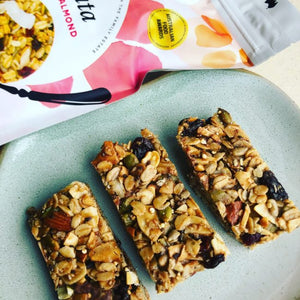 Nutty Granoata Bars
Ingredients & Method:
300gr of your choice of granoata + 300gr of Paleo Mix
100gr of your favourite nuts chopped
To be melted together until combined:
120gr honey
60gr peanut butter
20gr brown sugar
20gr maple syrup 
Remove hot ingredients from saucepan, mix dry ingredients, 40gr choc chips. Press all ingredients into 24cmx32cm tray and cook for 15min on 150deg until just brown. Leave to cool, then start to cut into pieces, pizza cutter may assist with cutting. Store in airtight container in fridge.