The Best Kalamata, Marinated & Manzanillo Olives Grown Right Here in Australia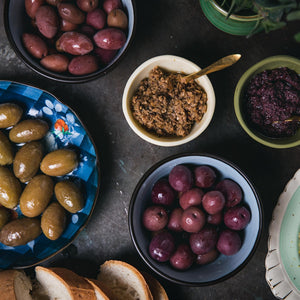 We pride ourselves on growing the finest olives here at our estate in Robinvale. We grow a variety of olives here including Manzanillo and Kalamata olives in both black and green varieties. The colour of the olive depends on when the olives are harvested, with green olives being harvested earlier in the season and retaining more of the bitter notes of the olive.


Hand growing olives is the first thing that ever happened on the Robinvale Estate family farm, dating back to the 1940s. Ever since then, we have been perfecting our growing methods and produce a variety of olive based products. Alongside our Extra Virgin Olive Oil and our Agrumato Olive Oil, we are proud to sell our marinated olives in the jar so that you can experience the tastes of Robinvale.


Our olive farm is an artisan farm whose objective is to bring people together over food in the true Mediterranean way. This is why we love to produce foods that are perfect for grazing, sharing, and celebrating. 


Our olive varieties are a great gift for the olive lover or the person who loves local foods. Browse the range below to experience the abundance of flavour that we capture in a single olive fruit.
Frequently Asked Questions