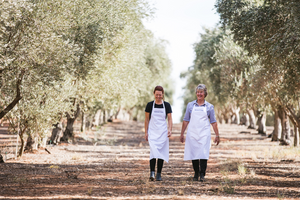 Robinvale Estate; an olive grove since 1946
The history of Robinvale Estate dates all the way back to 1946, when Ralph Natale decided to plant his first olive grove at Robinvale Estate. Together with his wife Glenda, they hand planted, harvested, and processed their olives, taking utmost pride in tradition, cuisine, and culture. While Ralph cared for the olive grove, it was Glenda whose passion for cooking and olives that transformed olives into what is now Australia's finest olive oil.
Ralph and Glenda's daughter, Kim, grew up on the family farm and is a lifelong resident of Robivnale. She grew up watching her father's passion for tending to the olive grove, and her mother's passion for creating foods from the garden. Taking the best from each of her parents, Kim went on to take over the olive grove, and is now the proud owner of Robinvale Estate and its proprietary growing and processing methods.
For a long time, Robinvale Estate was an olive grove exclusively, and only produced extra virgin olive oils. When Glenda decided to take the next step, Robinvale Estate began producing a range of salad dressings, using their Agrumato Olive Oils and Extra Virgin Olive Oils as ingredients. Many of the other ingredients are also grown at the Robinvale Estate family farm, which is now altogether an olive grove, a strawberry farm, and a herb garden. In 2008, Robinvale Estate received national accolades for their salad dressing products, inspiring the creation of the many collections you now see on the Robinvale Estate website.