Wine & Olive Oil Hampers Melbourne, at Robinvale Estate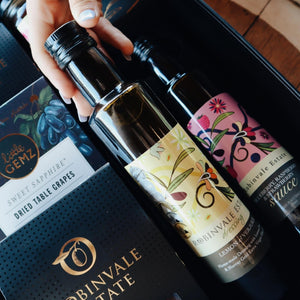 Robinvale Estate offers the ultimate indulgence to treat your senses! Our beautiful Wine & Olive Oil hampers, located only in Melbourne, offer an array of delicious treats. Each and every item featured in our olive oil hampers have been carefully selected by our experts to ensure maximum satisfaction and enjoyment. The perfect combination of an unforgettable wine experience complemented with the amazing taste of olive oil will leave you wanting more. Whether it is for yourself or a special someone, you can never go wrong with one of our premium Wine & Olive Oil Hampers from Robinvale Estate.
Try our Olive Oil Hampers Available Australia Wide
If you're looking for an unforgettable and delicious Aussie experience, then you have to try our olive oil hampers! Available Australia wide direct from Robinvale Estate in regional Victoria, these hampers will give you a taste of the outdoors that no other product can. Customers rave about our natural organic olive oil and other products included in the hamper sure to leave your taste buds tingling with delight. So don't wait any longer, try one of our Olive Oil Hampers today and experience flavour at its finest. We also stock Argumato Oil & Dipping Oils in our Gift Hampers. 
Our Gourmet Gift Box Hampers come beautifully presented, ready to be gifted to that special someone. Whether it's big or small, you can leave the pretty packaging and wrapping up to us. All you have to do is have it delivered directly to the recipient or in advance to take yourself as a beautifully packaged gift.


Browse our range of Gourmet Gift Box Hampers or contact us if there is something special you would like to create for your next gift.
Our Olive Oil Hamper Frequently Asked Questions